Attorney Profile
LAW OFFICES OF SHAH PEERALLY
4510 PERALTA BLVD, SUITE 23, FREMONT CA 94536
PH: 510.742.5887 FX: 510.742.5877
EMAIL: shah@peerallylaw.com


PERM LABOR CERFICATIONS, H1B VISAS, NON IMMIGRANT VISAS, MARRIAGE PETITIONS, PARENTS' PETITIONS, ASYLUMS, APPEALS, REMOVAL OF CONDITIONAL RESIDENCE, I-751, I-485, I-130
Founder & Managing Attorney
CHECK OUR ALTERNATE WEBSITE (WWW.PEERALLYLAW.COM)
Email: shah@peerallylaw.com Ph: (510) 742 5887
Shah Peerally is the founder and managing attorney of the Law Offices of Shah Peerally located in Fremont, California.
Prior to his entrance into Immigration law practice, Shah worked in litigation and business law for Mc Nichols Randick O'Dea & Tooliatos LLP in Pleasanton, California. Later, Shah joined the Law Offices of Virender Goswami as a supervising attorney in business and employment immigration. Shah was also attorney of counsel for the Immigration law offices of Minter and Ahmad in Fremont, California.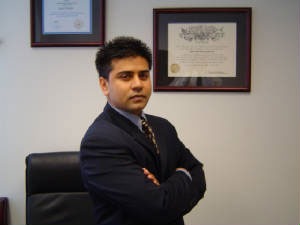 Fluent in French and Creole, Shah is a passionate and dedicated advocate. He is very active in the Muslim, Middle Eastern, South Asian and African communities. He regularly participates in lectures and free legal clinics. Shah has been personally commended by House Majority Leader Nancy Pelosi and Congresswoman Barbara Lee for assisting in their immigration workshops.
Shah received his Juris Doctorate degree from New College of California School of Law, in San Francisco. He holds membership in the State Bar of California, and the American Immigration Lawyer's Association. Shah is also admitted in the Northern Federal District Court and the 9th Circuit Court of Appeals.

TESTIMONIALS
"I would like to recommend the Law Offices of Shah Peerally...I hired them for my mother's green card processing (California) and got the green card in a little over 5 months, without having to go for an interview...."
Dipti, Fremont California
Important: The testimonials or endorsements on this website do not constitute a guarantee, warranty, or prediction regarding the outcome of your legal matter. Each case is different and success in one case does not warrant or guarantee success in other similar cases or situations.
I would like to recommend the Law Offices of Shah Peerally
<http://www.peerallylaw.com/en/index.php> for the parent(s) green card
processing. I hired them for my mother's green card processing
(California) and got the green card in a little over 5 months, without
having to go for an interview. The interview is usually waived if the
documentation that is mailed in is precise and complete.

My answer to the (anticipated) question of - Why did you hire an
attorney, is the process not simple? ... I am aware that a lot of people
file for this processing without an attorney and are successful in
processing the green card. A couple of my close friends ran into one
glitch or the other in the recent times, which took them well over 18
months. Not wanting to risk this and also not having the bandwidth to
follow up the paper work, the law changes, I decided to hire an attorney.

I asked for recommendations on this list and another Oracle employee
recommended Mr. Peerally. I talked to a few other attorneys as well. I
found Mr. Peerally's fees to be competitive. I found out that some
attorneys charge their hourly rate if you want them to go for the
interview with you. Mr. Peerally's fees include the interview appearance
and also the mock-interview in his office. To talk with an attorney,
some Law Offices asked me to mail in a consultation check ( which ranged
from $80 to $250 ). Mr. Peerally was gracious to take my first call,
outline the process and answer some of my specific questions. I was
impressed with his friendly attitude and the depth of his knowledge and
decided to hire him.

During our first meeting in his office, we went over the specifics of
the case, the documentation that would be required. He outlined the
potential problems that may arise (specifically to do with the name
changes in the Marathi community ), he outlined the potential solutions.
They gave me a list of doctors for the medical. I mailed this
documentation to their office. During the second meeting they had the
packet put together and ready to go after our signatures. He had the
documentation in there for most of the anticipated problems - which I
think made a big difference in the processing time.

The process did run into a hiccup - USCIS could not get legible finger
prints for my mother - she did the fingerprinting three times. To get
around this, they asked us to submit a criminal clearance. Mr. Peerally
guided us very well through the process, which required getting precise
documentation from India in addition to the California clearance.

All through the process, Mr. Peerally and his office staff were prompt
on the email. They kept me informed about the next step, anticipated
time frame and also guided us through the SSN application, State Id, DL
applications.

I would recommend this law firm !

Thanks
Dipti

Check more testimonials on http://www.peerallylaw.com